06 Mar

Tornado Resources
March 2020 Tornado – Updates & Resources for Architects
As members of the Middle Tennessee community, our hearts and thoughts go out to all of those affected by the March 3 tornadoes that devastated areas across Middle Tennessee.
The skillset of architects, like you, are invaluable in all phases of emergency management and response. Together as an architecture community, we will help our neighbors in need and continue to protect public health, safety, and welfare.
Here are the facts that we know about the March 2020 tornado. At least 24 people were reported dead from this tragedy. Among the victims, 18 were in Putnam County, 3 in Wilson County, 2 in Davidson County, and 1 in Benton County. Our community is devastated by the loss of life.  Listed below are the names of the victims, sourced from local news outlets.
Putnam County:
Jessica Clark, Amanda Cole, Hattie Collins, Dawson Curtis, Terry Curtis, Joshua Kimberlin, Sawyer Kimberlin, Erin Kimberlin, Todd Koehler, Sue Koehler, Patricia Lane, Leisha Rittenberry, Harlan Marsh, Bridgette (Ann Marie) McCormick, Keith Selby, Cathy Selby, Jamie Smith, Stephanie Fields
Davidson County:
Michael Dolfini, Albree Sexton
Wilson County:
James Eaton, Donna Eaton, Brandy Barker
Benton County:
Male, 67 years old (name not given)
RESPONSE PHASE:
Post the emergency, we are still in the response phase. Here is the latest information we have by county.
In Case You Missed It
On Tuesday, March 31, AIA Executive Director Carol Pedigo took part in a virtual Urban Design Forum hosted by Nashville Civic Design Center. The program focused on Responsibly Responding to Disasters and how we can all work toward long-term recovery from the recent tornadoes in Tennessee.
Click here to watch the discussion.
Putnam County 
TNSAVE Mission Complete!
Update – March 6, 2020
Kudos to the AE community working alongside Putnam County codes officials. We just received news that today's group that helped perform visual evaluations of structures in Putnam county did such an amazing job that volunteers will not be deploying over the weekend.
Thank you to these amazing volunteers: Jim Pareigis, Lori Smith, Kim Chamberlin, RJ Tazelaar, Justin Fields, David Giattas, Jacene Phillips, Jordan Etters, Kenna Turner, Logan Newton, Matt Ractliffe, Randy Drake, Sonja Wilson, Rachel Gresham, Bill Robinson, Noah Stansfield, Jim Smithey, and Rick Heckel.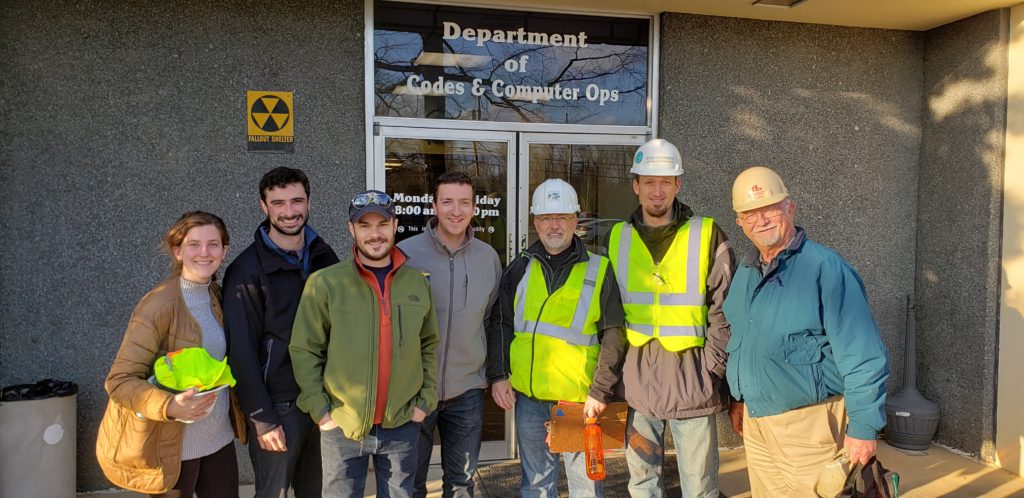 Many of you were looking forward to volunteering so make sure to check out Hands On Nashville for more ways to help the community.
Check out our TNSAVE's facebook page to see more photos from today!
TNSAVE Volunteers Activated
March 5, 2020
The Tennessee Emergency Management Agency (TEMA) activated all TNSAVE volunteers effect March 5, 2020. The Tennessee Structural Assessment and Visual Evaluation Coalition (TNSAVE) is a group of professional organizations whose objective is to help TEMA develop and maintain a post-disaster building inspector program.
TNSAVE serves TEMA and the State of Tennessee to identify and recruit, train and organize, and mobilize building inspectors following a disaster.
Current TNSAVE Volunteers – If you are already trained as a TNSAVE Volunteer you will be contacted by email for ways in which you can engage.
Not a Trained Volunteer? If you want to help and are not yet a trained TNSAVE volunteer, please express interest and share your availability.
Davidson and Wilson County
Update – March 5, 2020
As of March 5, 2020, city officials estimate to have completed assessments of 75% of the buildings impacted in Davidson County.
395 Residential properties received major damage

184 Commercial properties received major damage

100's have received minor damage
Assessments continue in Wilson County. Major damage to multiple structures throughout the county, many homes and businesses damaged/destroyed. Significant damage reported to West Wilson Middle School and Stoner Creek Elementary. Both are reported as a total loss.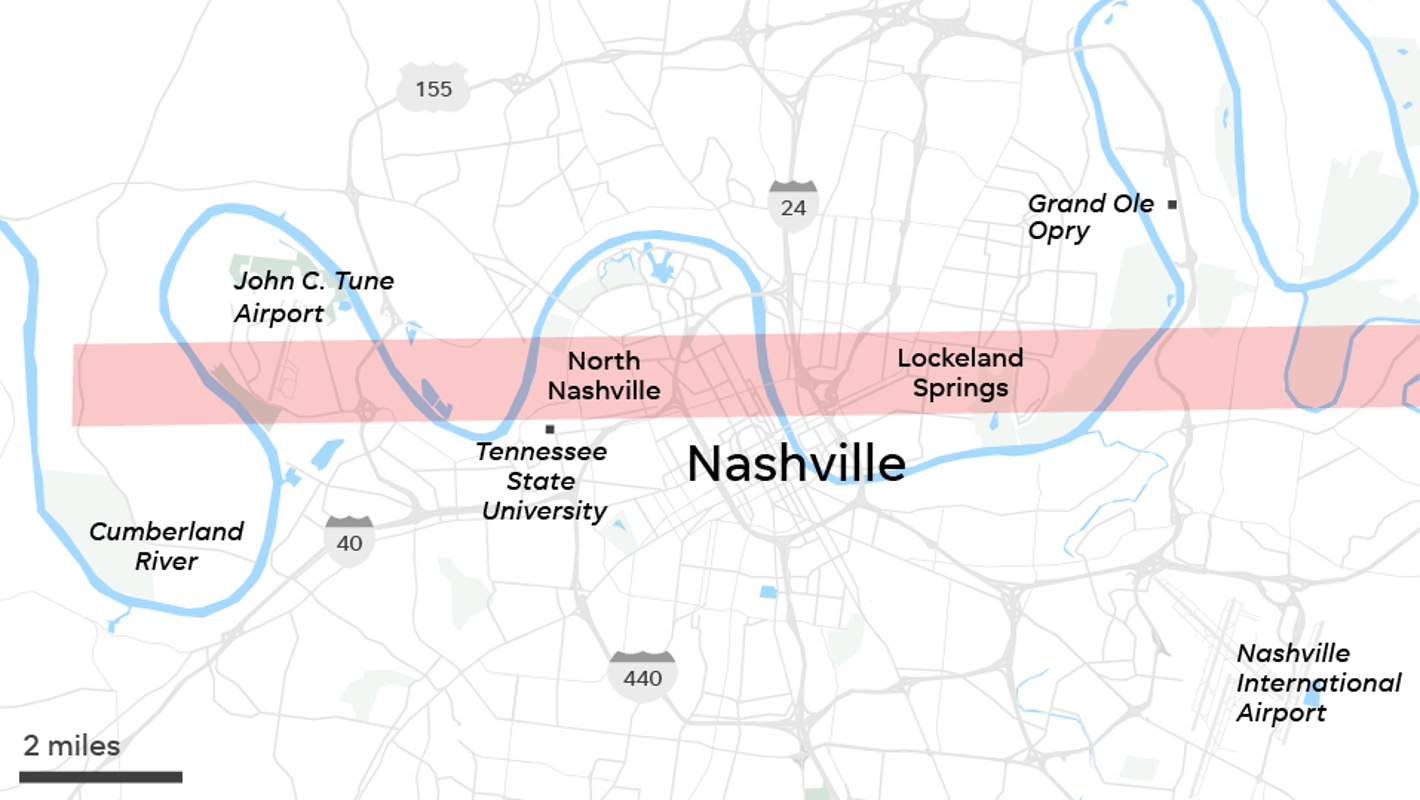 Path of March 3, 2020 Tornado in Nashville, TN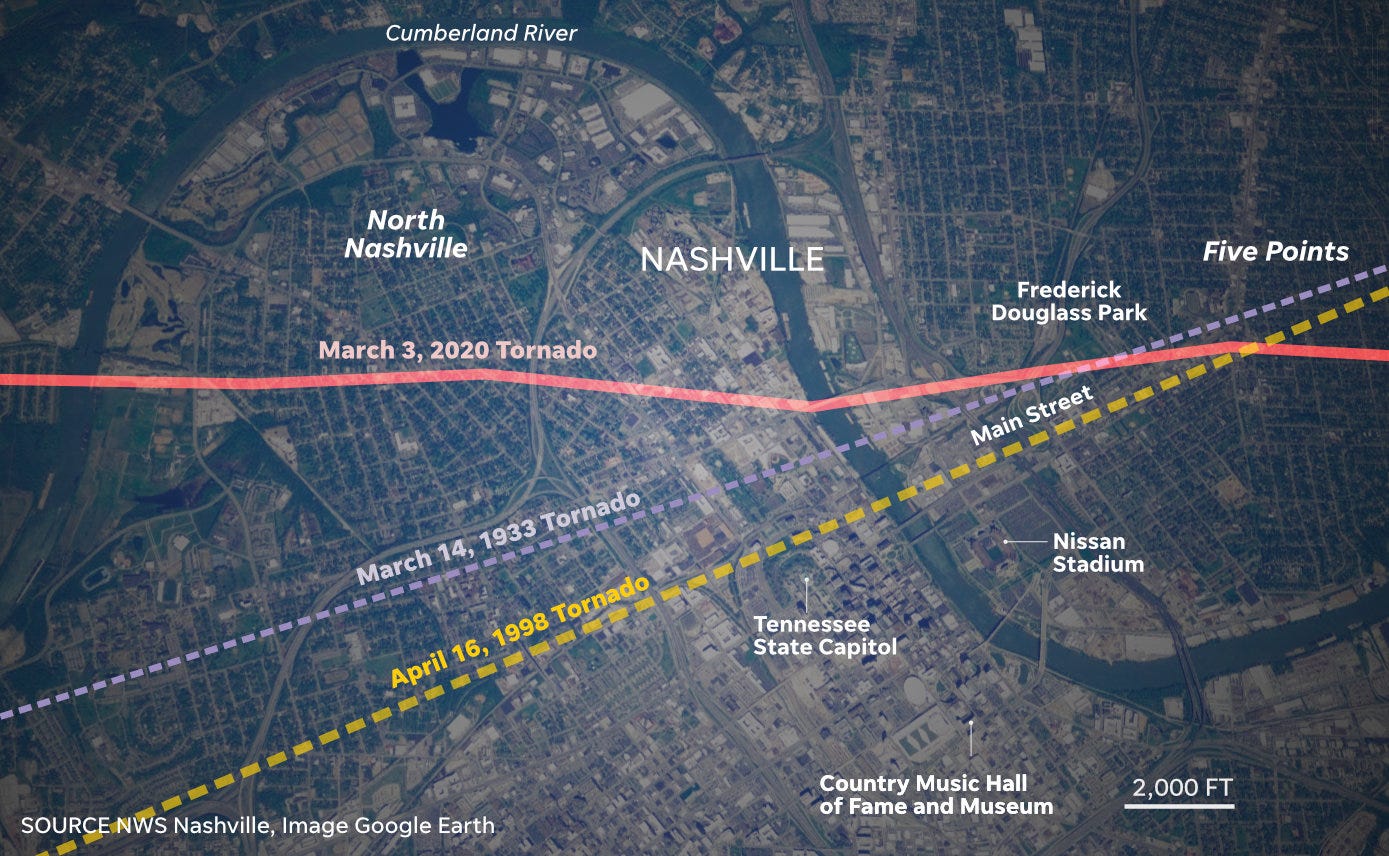 Path of March 3, 2020 Tornado in Nashville, TN compared to March 14, 1933 Tornado and April 16, 1998 Tornado
DONELSON/HERMITAGE
Smith Springs Community Center: 2801 Smith Springs Road, Nashville, 37217; (Metro Nashville 24-hour shelter – accepting pets)
Love's Way Church: 310 Coles Ferry Pike, Lebanon, 37087; 615-453-6200; Providing emergency resources
Victory Baptist Church: 1777 Tate Ln, Mt. Juliet, TN 37122; 615-773-5200; Providing emergency resources
EAST NASHVILLE
East Magnet High School: 110 Gallatin Ave, Nashville, TN 37206 (Metro Nashville 24-hour shelter)
Hope Church: 1215 Gallatin Avenue, Nashville, 37206; 615-262-9424; Providing emergency resources
Margaret Maddox YMCA: 2624 Gallatin Pike, Nashville, TN 37216; 615-228-5525; Providing emergency resources
American Legion Post 82 3204 Gallatin Pike, 615-228-3598; offering resources for victims and first responders
NORTH NASHVILLE
Gideon's Army United: 615-852-7530; Supporting North Nashville neighbors with advocacy
Greater Heights Missionary Baptist: 1600 14th Avenue North, Nashville 37208; 615-712-6825
Hadley Park: 1037 28th Avenue North, Nashville, 37208; 615-862-8451 (Metro Nashville 24-hour shelter)
Lee Chapel AME Church: (receiving water and donations for tornado victims) 1200 Dr. DB Todd Jr. Blvd, Nashville, TN 37208
WEST NASHVILLE
Centennial Sportsplex: 222 25th Ave N, Nashville TN 37203 (Metro Nashville 24-hour shelter-only option accepting pets)
Northwest Family YMCA: 3700 Ashland City Hwy, Nashville, TN 37218; 615-242-6559
Tell Us Your Story
Were you or your loved ones affected by the severe weather? Please let us know if we can help. Share your story with us through a brief questionnaire.