30 Dec

AIA Middle TN Announces 2020 Design Award Winners!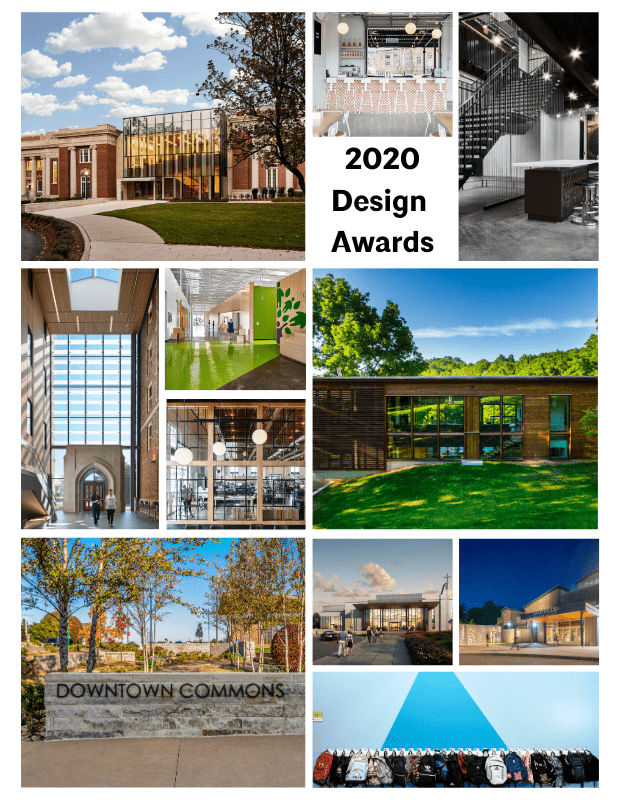 NASHVILLE, TN – AIA Middle Tennessee, A Chapter of the American Institute of Architects (AIA) announced the winners of the 2020 Design Awards to honor exceptional work on the behalf of the architecture profession and bring awareness to the great work that architects are doing in our communities.
The 2020 AIA Middle Tennessee Design Awards recognizes the following architecture firms:
Honor Award:
Lyle Cook Martin Architects (Architect of Record) + Franklin Associates Architects for Clarksville Commons – A New Civic Square
Centric Architecture (Architect of Record) + SGA Architects (Design Architect) for Magnolia Circle and Mayborn
Michael Goorevich, Architect for Wood Screen House
Merit Award:
Gresham Smith for Universal Music Group Nashville
Hastings Architecture for Vanderbilt School of Nursing
Manuel Zeitlin Architects for KIPP Antioch College Prep
Citation Award:
Dryden Architecture and Design for Designworks Headquarters
Gould Turner Group for Nashville Farmer's Market
Hastings Architecture for Family and Children Services
Hastings Architecture for Christ Presbyterian
Dryden Architecture and Design for Parsons Chicken and Fish
People's Choice Award:
A jury of AIA Charlotte members judged the entries. Jury members were: Marley Carrol, FAIA, Jana Hartenstine, AIA, Kevin Kennedy, AIA, Taylor Milner, AIA, Melanie Reddrick, AIA.
Projects are entered under seven categories: small, large, small healthcare design, large healthcare design, interiors, residential, or unbuilt. The jury was encouraged to recognize and acknowledge exceptional design in the categories of Citation, Merit, and Honor, with Honor being the highest award
The AIA Middle TN Committee on Design was led by Board Liaison, Lee Davis, AIA of Earl Swensson Associates, and Chair, Nick Dryden, AIA of Dryden Architecture.
Read the announcement on the Nashville Business Journal here and view photos of all projects submitted for the 2020 Design Awards here.