20 Oct

Architect/Project Designer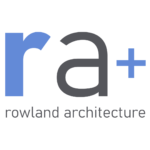 rowland architecture is seeking a highly skilled Architect/Project Designer who is licensed or seeking licensure to contribute to the design culture of our firm.  Ideal candidates are excellent verbal and graphic communicators, have good time management skills, thrive when presented with tough design challenges, and are highly creative.  Professional experience in all phases of design is a must, and candidates must be collaborative, driven, organized, and able to shift between individual and team-oriented work.
Requirements:
– Bachelor and/or Masters degree of Architecture
– 2-5+ years of experience
– Proficient in Revit, Enscape, Bluebeam, and SketchUp
– Proficient in Microsoft Office and Adobe Creative Suite
– Experience in healthcare architecture is preferred but not required.
About Us:
rowland architecture is a small, healthcare-focused architecture firm working across the country with nationally prestigious clients across all phases of design.  Our mission is to humanize healthcare design through exceptional planning and execution while providing thought leadership for our clients in an ever-changing field.  Founded in 2022, our firm offers incredible opportunities for growth and involvement in all facets of our practice.  Our culture is driven by the idea of continuous improvement and mentorship while prioritizing a sustainable work-life balance.  We are not a cookie-cutter architecture firm – every one of our projects requires a specialized level of attention and design thinking.  Our clients value us for our ability to creatively address problems that our firm is uniquely equipped to solve.
What does rowland architecture have to offer?
– Hybrid office environment
– Reimbursement for all professional licensing
and accreditation fees
– Individualized mentorship and unbounded
growth opportunities
– Competitive salary and benefits package